Immortal Hulk Vol. 1 | Panel to Panel: Comic Book Club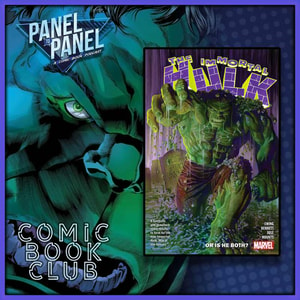 We end of our month of Horror books with Octobers Book Club selection (Chosen by YOU!)
We are joined by Jimmy Champane - Halloween Expert & YouTuber. Make sure to check out his Halloween Kills Fan Film!
This months pick is...
Immortal Hulk Vol. 1: Or Is He Both?
Written by: Al Ewing
Art by: Joe Bennett
Cover by: Alex Ross
Horror has a name. You'd never notice the man. He doesn't like to be noticed. He's quiet. Calm. If someone were to shoot him in the head…all he'd do is die. Until night falls — and someone else gets up again. The man's name is Banner. The horror is the Immortal Hulk! And trouble has a way of following them both. As reporter Jackie McGee tries to put together the pieces, Banner treads a lonely path from town to town, finding murder, mystery and tragedy as he goes. And what Banner finds, the Hulk smashes! Elsewhere, the hero called Sasquatch can't help but feel involved. In many ways, he's Banner's equal — and his opposite. Sasquatch is about to risk his life by looking for the man — and finding the monster!
---
Panel to Panel is a weekly conversation about what we are currently reading/watching/playing in the ever expanding universe of comic books. Join us every Tuesday @ 7AM Eastern!
Join our Discord Community! - https://discord.gg/zavfTbz
Follow us on twitter!
Panel to Panel | @PanelPod
Andrew Taylor | @PapaDrewBear
John Bernardo | @Johnsbernardo
Ben Pilaczynski | @GetBenPd
Follow us on Instagram | @PanelPod
If you like what you heard, please take a few moments to leave a review! Also don't forget to subscribe! Thank you!
Find out more at https://panel-to-panel.pinecast.co