What I Know | The Boys in Review [S2E8]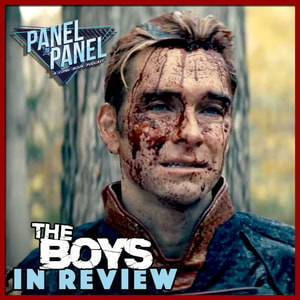 SUPER VILLAIN ALERT YOU ARE RECEIVING THIS NOTIFICATION FROM THE DEPARTMENT OF HOMELAND SECURITY. A SUPER VILLAIN ALERT HAS BEEN ISSUED FOR YOUR AREA. PLEASE BE VIGILANT AND REPORT ANY SUSPICIOUS PERSONS OR ACTIVITY. IF YOU BELIEVE YOU HAVE SEEN A SUPER VILLAIN, DO NOT APPROACH OR ATTEMPT TO APPREHEND THEM. CONTACT LAW ENFORCEMENT IMMEDIATELY
---
Panel to Panel is a weekly conversation about what we are currently reading/watching/playing in the ever expanding universe of comic books. Join us every Tuesday @ 7AM Eastern!
Join our Discord Community! - https://discord.gg/zavfTbz
Follow us on twitter!
Panel to Panel | @PanelPod
Andrew Taylor | @PapaDrewBear
John Bernardo | @Johnsbernardo
Ben Pilaczynski | [@GetBenPd] (www.twitter.com/GetBenPd)
Follow us on Instagram | @PanelPod
If you like what you heard, please take a few moments to leave a review! Also don't forget to subscribe! Thank you!
Find out more at https://panel-to-panel.pinecast.co