Swamp Thing / Victor LaValle's Destroyer | Panel to Panel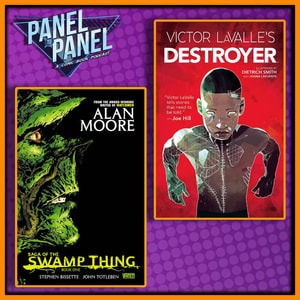 Time Stamps
Swamp Thing - 2:13
Extremity - 13:00
Saga - 14:44
Destroyer - 19:34
Invincible Trailer - 31:45
DC's Future State - 36:45
Our Halloween books for this week are...
Saga of the Swamp Thing: Book One
Written by: Alan Moore
Art by: Stephen Bissette
Book One begins with the story "The Anatomy Lesson," a haunting origin story that reshapes SWAMP THING mythology with terrifying revelations that begin a journey of discovery and adventure that will take him across the stars and beyond.
Victor LaValle's Destroyer
Written by: Victor LaValle
Art by: Dietrich Smith
Colored by: Joana Lafuente
Cover by: Micaela Dawn
An intense, unflinching story exploring the legacies of love, loss, and vengeance placed firmly in the tense atmosphere and current events of the modern-day United States. When the last descendant of the Frankenstein family loses her only son to a police shooting, she turns to science for her own justice… putting her on a crash course with her family's original monster and his quest to eliminate humanity.
---
Panel to Panel is a weekly conversation about what we are currently reading/watching/playing in the ever expanding universe of comic books. Join us every Tuesday @ 7AM Eastern!
Join our Discord Community! - https://discord.gg/zavfTbz
Follow us on twitter!
Panel to Panel | @PanelPod
Andrew Taylor | @PapaDrewBear
John Bernardo | @Johnsbernardo
Ben Pilaczynski | [@GetBenPd] (www.twitter.com/GetBenPd)
Follow us on Instagram | @PanelPod
If you like what you heard, please take a few moments to leave a review! Also don't forget to subscribe! Thank you!
Find out more at https://panel-to-panel.pinecast.co