Free Comic Book Day 2019 | Panel to Panel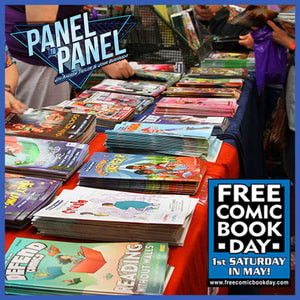 Welcome back for another episode of Panel to Panel! Andrew cant make it tonight so I have with me a VERY special guest, Alex Kane. He is a journalist who has written for Polygon, Rolling Stone, StarWars.com & Variety.
He is the Co-Host of X-Wingin It (Podcast). He just released a book under the Boss Fight Books banner for Star Wars: Knights of the Old Republic!
---
What we're reading
John: Invasion from Planet Wrestletopia (Issue #1 & 2) Alex: Invincible Iron Man by Matt Fraction, Star Wars: Galaxy's Edge #1
Let's Chat About…
Free Comic Book Day!
This day is an annual event founded on the belief that for every person out there, there's a comic book they'll love. Every year, on the first Saturday in May, the industry comes together to give away free comics and encourage fans, both old and new, to flock to the best place in the comic book community: local comic shops.
How To Prepare For Free Comic Book Day 2019
What books are we checking out
Remembering our 1st experience
Local comic shop shoutouts
Sales
Comixology
Ongoing Sales from Last Week's Episode
New Sales
Recommendation of the week Alex: Locke & Key Vol 1 - Written by Joe Hill, Art By Gabriel Rodriguez
John: We Stand On Guard - Written by Brian K. Vaughan, Art by Steve Skroce
---
Panel to Panel is a weekly comic book podcast where we have conversations about everything related to comic books. From the pages to the silver screen and everything in between!
Follow us on twitter!
Panel to Panel | @PanelPod
Andrew Taylor | @PapaDrewBear
John Bernardo | @Johnsbernardo
Alex Kane | @Alexjkane
Follow us on Instagram | @PanelPod
If you like what you heard, please take a few moments to leave a review! Also don't forget to subscribe! Thank you!