Paper Girls Vol. 1 | Panel to Panel: Comic Book Club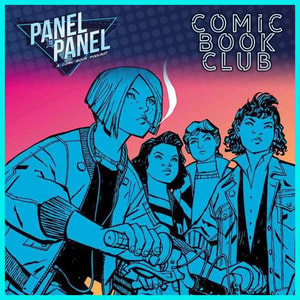 Here is your Comic Book Club for the month of August (2020)
Paper Girls Vol. 1
From BRIAN K. VAUGHAN, #1 New York Times bestselling writer of SAGA and THE PRIVATE EYE, and CLIFF CHIANG, legendary artist of Wonder Woman, comes the first volume of an all-new ongoing adventure. In the early hours after Halloween of 1988, four 12-year-old newspaper delivery girls uncover the most important story of all time. Suburban drama and otherworldly mysteries collide in this smash-hit series about nostalgia, first jobs, and the last days of childhood.
---
Panel to Panel is a weekly comic book podcast where we have conversations about everything related to comic books. From the pages to the silver screen and everything in between!
Join our Discord Community! - https://discord.gg/zavfTbz
Follow us on twitter!
Panel to Panel | @PanelPod
Andrew Taylor | @PapaDrewBear
John Bernardo | @Johnsbernardo
Ben Pilaczynski | [@GetBenPd] (https://twitter.com/GetBenPd)
Follow us on Instagram | @PanelPod
If you like what you heard, please take a few moments to leave a review! Also don't forget to subscribe! Thank you!
Find out more at https://panel-to-panel.pinecast.co