Avengers PS4 Beta / Seven Secrets / Forgotten Home | Panel to Panel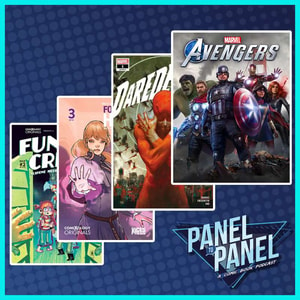 This week, Ben & John talked about...
Seven Secrets #1 Written by: Tom Taylor Pencils & Cover by: Daniele Di Nicuolo Colored by: Walter Baiamonte
For centuries, the Order has trusted in Keepers and Holders to guard the Secrets in seven briefcases against all harm, but when their stronghold is attacked and the secrets put in peril, the entire Order must face their greatest fear -- an enemy who knows too much and is willing to kill to get what he wants. Now, the Order's newest member, Caspar, must discover the truth of the Secrets before the enemy does, or risk losing everything.
Funny Creek (comiXology Originals) #2 (of 5) Written by: Rafael Albuquerque & Rafael Scavone Art by: Eduardo Medeiros Colored by: Priscilla Tramontano Lettered by: Bernardo Brice Edited by: Bis Stringer Horne
The Good Guys - Lilly, Clumsy and Cody face devilish villains in Funny Creek Town. But the outcome of the fight will lead to dramatic changes, pushing Lilly deeper into the adventure inside her favorite cartoon show.
Daredevil #1 Written by: Chip Zdarsky Art by: Marco Checchetto & Chip Zdarsky Cover by: Julian Totino Tedesco
KNOW FEAR.
Forgotten Home #3 Written by: Erica Schultz Art by: Marika Cresta Colored by: Matt Emmons Cover by: Natasha Alterici Lettered by: Cardinal Rae
After a quick defeat at the hands of Queen Rani, Lorraine meets one of the kidnapped children from Montana. Joanna meets her grandmother, at last.
Marvel's Avengers [Public Beta] (Video Game) Platform:Xbox One, PC, Playstation 4 Developers: Crystal Dynamics, Crystal Northwest, Eidos-Montréal, Nixxes Software BV Publisher: Square Enix Genre: Action-adventure/Game as a Service
Marvel's Avengers is an epic, third-person, action-adventure game that combines an original, cinematic story with single-player and co-operative gameplay*. Assemble into a team of up to four players online, master extraordinary abilities, customize a growing roster of Heroes, and defend the Earth from escalating threats.
---
Panel to Panel is a weekly comic book podcast where we have conversations about everything related to comic books. From the pages to the silver screen and everything in between!
Join our Discord Community! - https://discord.gg/zavfTbz
Follow us on twitter!
Panel to Panel | @PanelPod
Andrew Taylor | @PapaDrewBear
John Bernardo | @Johnsbernardo
Ben Pilaczynski | [@GetBenPd] (https://twitter.com/GetBenPd)
Follow us on Instagram | @PanelPod
If you like what you heard, please take a few moments to leave a review! Also don't forget to subscribe! Thank you!
Find out more at https://panel-to-panel.pinecast.co