Interceptor, Gideon Falls, Something is Killing the Children | Panel to Panel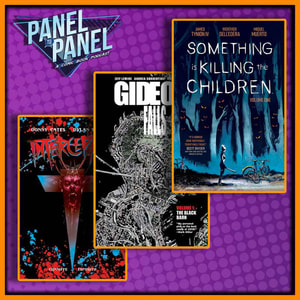 For the month of October we will be focusing on horror type books!
Interceptor Vol. 1 - 01:50 Written by: Donny Cates Art by: Dylan Burnett
Poli has a mech suit and a mission. Weep has machine guns and a temper. Together they lead a band of freedom fighters on a planet populated exclusively by blood-sucking vampires. A planet called Earth. Neon-drenched, blood-soaked, all-out vampire warfare. #DeathBeforeUndead
Gideon Falls Vol. 1: The Black Barn - 23:15 Written by: Jeff Lemire Art by: Andrea Sorrentino & Dave Stewart
_A character-driven meditation on obsession, mental illness, and faith. The legend of the Black Barn—an otherworldly building alleged to have appeared and reappeared throughout history, bringing death and madness in its wake—ensnares and entwines the lives of two very different men. _
Something is Killing the Children Vol. 1 - 44:00 Written by: James Tynion IV Pencils: Werther Dell'Edera Colored by: Miquel Muerto
When the children of Archer's Peak begin to go missing, everything seems hopeless. The few children that return alive have terrible stories -- impossible details of terrifying creatures that live in the shadows. Their only hope is the arrival of a mysterious stranger, one who believes the children and claims to be the only adult who sees what they can see. Her name is Erica Slaughter. She kills monsters. That is all she does, and she bears the cost because it must be done.
---
Panel to Panel is a weekly conversation about what we are currently reading/watching/playing in the ever expanding universe of comic books. Join us every Tuesday @ 7AM Eastern!
Join our Discord Community! - https://discord.gg/zavfTbz
Follow us on twitter!
Panel to Panel | @PanelPod
Andrew Taylor | @PapaDrewBear
John Bernardo | @Johnsbernardo
Ben Pilaczynski | [@GetBenPd] (www.twitter.com/GetBenPd)
Follow us on Instagram | @PanelPod
If you like what you heard, please take a few moments to leave a review! Also don't forget to subscribe! Thank you!
Find out more at https://panel-to-panel.pinecast.co