Curse Words & Extremity | Panel to Panel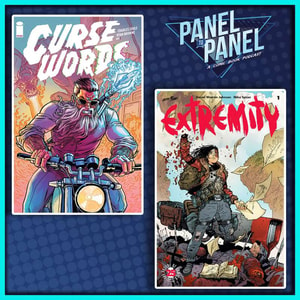 We're flipping the format this week! Ben & John are reading 2 #1 issues from series they haven't read before. We discuss them in full and decide whether or not we will jump into the story with each book's Volume 1.
This weeks books are...
Curse Words #1 - 02:10
Written by: Charles Soule Art by: Jordan Boyd & Ryan Browne
A wizard has appeared in New York City, and he's casting wonderful spells, getting famous, getting rich-it's great! But it's not. This wizard has everyone fooled. He is actually an EVIL WIZARD, and EVIL THINGS are on the way. CURSE WORDS is a gonzo modern fantasy, full of darkness, light...and MAGIC.
Extremity #1 - 18:57
Written by: Daniel Warren Johnson Art by: Daniel Warren Johnson & Mike Spicer
Thea dreams. Not of a better life, but of revenge on the clan that ruined her family. With ferocious battles between man, machines, and monsters ahead…who knows where her quest for vengeance will take her?
---
Panel to Panel is a weekly conversation about what we are currently reading/watching/playing in the ever expanding universe of comic books. Join us every Tuesday @ 7AM Eastern!
Join our Discord Community! - https://discord.gg/zavfTbz
Follow us on twitter!
Panel to Panel | @PanelPod
Andrew Taylor | @PapaDrewBear
John Bernardo | @Johnsbernardo
Ben Pilaczynski | [@GetBenPd] (https://twitter.com/GetBenPd)
Follow us on Instagram | @PanelPod
If you like what you heard, please take a few moments to leave a review! Also don't forget to subscribe! Thank you!
Find out more at https://panel-to-panel.pinecast.co