Digital vs Physical Comics | Panel to Panel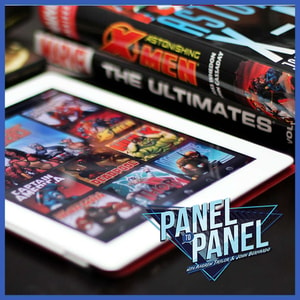 "Comics are like boobs. They look great on a computer but I'd rather hold one in my hand". - Stan Lee
What we're reading
Andrew: Fear Agent (Written By Rick Remender / Art By Tony Moore)
John: Friendo (Written By Alex Paknadel / Art By Martin Simmonds / Colored by Dee Cunniffee / Letters by Taylor Esposito)
Let's Chat About…
Digital vs Physical Comics
Sales
New Sales
Marvel: Origins Sale! - Ends May 19th
Marvel: Savage Avengers Collection Sale! - Ends May 20th
Dark Horse Devil's in the Details Sale! - Ends May 20th
Teenage Mutant Ninja Turtles Sale! - Ends May 31st
Ongoing Sales from Last Week's Episode
James Bond Sale - Ends May 16th
Judge Dredd Sale - Ends May 16th
Questions
@PixelBrave asks "If Vertigo started making live action movies, what should the first movie be and who would you want to direct?"
Recommendation of the week
Andrew: Fear Agent (Written By Rick Remender / Art By Tony Moore)
John: Friendo (Written By Alex Paknadel / Art By Martin Simmonds / Colored by Dee Cunniffee / Letters by Taylor Esposito)
---
Panel to Panel is a weekly comic book podcast where we have conversations about everything related to comic books. From the pages to the silver screen and everything in between!
Follow us on twitter!
Panel to Panel | @PanelPod
Andrew Taylor | @PapaDrewBear
John Bernardo | @Johnsbernardo
Follow us on Instagram | @PanelPod
If you like what you heard, please take a few moments to leave a review! Also don't forget to subscribe! Thank you!