Black Science Vol. 1 | Panel to Panel: Comic Book Club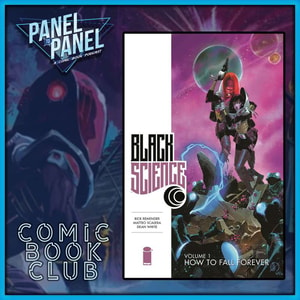 Here is your Comic Book Club for the month of September (2020)
Black Science Vol. 1: How to Fall Forever
Written by: Rick Remender
Art by: Matteo Scalera & Dean White
Anarchist scientist Grant McKay has done the impossible! Using the Pillar, he has punched a hole through the barriers between dimensions, allowing travel to all possible universes. But now Grant and his team are trapped in the folds of infinity, the Pillar sending them careening through a million universes of unimaginable adventure, sanity-flaying danger and no way home... Presenting the first mind-warping chapter of the critically acclaimed sci-fi epic by superstar creative team of writer RICK REMENDER (Uncanny Avengers, Captain America) and artist MATTEO SCALERA (Secret Avengers).
---
Panel to Panel is a weekly conversation about what we are currently reading/watching/playing in the ever expanding universe of comic books. Join us every Tuesday @ 7AM Eastern!
Join our Discord Community! - https://discord.gg/zavfTbz
Follow us on twitter!
Panel to Panel | @PanelPod
Andrew Taylor | @PapaDrewBear
John Bernardo | @Johnsbernardo
Ben Pilaczynski | [@GetBenPd] (https://twitter.com/GetBenPd)
Follow us on Instagram | @PanelPod
If you like what you heard, please take a few moments to leave a review! Also don't forget to subscribe! Thank you!
Find out more at https://panel-to-panel.pinecast.co