Funny Creek / Venom / Umbrella Academy | Panel to Panel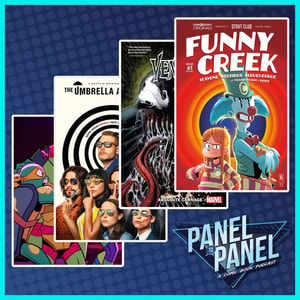 This week we are highlighting the brand new Comixology Original - 'Funny Creek'
Here is what we else talked about this week!
Rise of the Teenage Mutant Ninja Turtles (Season 1)
Four brothers work together to discover more about their mystic ninja powers and the hidden magical realm beneath the sewers of New York City.
The Umbrella Academy (Season 2)
The Umbrella Academy has been transported to Dallas in the early 1960s, where the Hargreeves must once again try to repair their familial bonds while also averting a nuclear apocalypse — an apocalypse that they themselves may be causing.
Venom Vol. 3: Absolute Carnage
Written By: Donny Cates
Art By: Iban Coello & Juan Gedeon
Cover By: Kyle Hotz
Eddie Brock has his hands more than full! With the serial killer symbiote Carnage on the loose, Venom must protect his son, Dylan, at all costs! But Venom and Carnage aren't the only two symbiotes around — and that only means that the bodies are piling higher than ever before! As all hell breaks loose and Carnage's army swarms the streets of New York, what will happen when even more of Venom's twisted offspring make their presence known?! And as if things weren't bad enough, it turns out there's much more to Dylan than Venom, Carnage or even the alternate-reality Reed Richards known as the Maker understand — and once they learn the truth about Eddie Brock's son, nothing will ever be the same!
Funny Creek #1
Written By: Rafael Albuquerque & Rafael Scavone
Art By: Eduardo Medeiros
Coloured By: Priscilla Tramontano
Cover By: Rafael Albuquerque & Eduardo Medeiros
Lettered By: Bernardo Brice
_Lilly is a smart girl in the 1980's who falls into her favorite cartoon: The Funny Creek Show. But this joyful experience will soon become dramatic when her cartoon hero, the Sheriff Clumsy, shows himself in a darker light than she expected.__
---
Panel to Panel is a weekly comic book podcast where we have conversations about everything related to comic books. From the pages to the silver screen and everything in between!
Join our Discord Community! - https://discord.gg/zavfTbz
Follow us on twitter!
Panel to Panel | @PanelPod
Andrew Taylor | @PapaDrewBear
John Bernardo | @Johnsbernardo
Ben Pilaczynski | [@GetBenPd] (https://twitter.com/GetBenPd)
Follow us on Instagram | @PanelPod
If you like what you heard, please take a few moments to leave a review! Also don't forget to subscribe! Thank you!
Find out more at https://panel-to-panel.pinecast.co