New Far From Home Trailer & MCU Future | Panel to Panel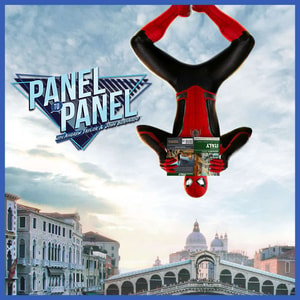 Andrew is BACK!
This week, for the 1st time ever we have a 3 person episode! We are joined by Blessing Adeoye Jr from OK Beast!
What we're reading
Andrew: Black Science Vol. 1 (Written By Rick Remender / Art By Matteo Scalera)
John: My Boyfriend is a Bear (Written By Pamela Ribon / Art By Cat Farris)
Let's Chat About…
Spider-Man: Far From Home Trailer #2 (Endgame Spoilers Inbound!)
What does this all mean for the future of the Marvel Cinematic Universe?
Questions:
Quinn Hoffman asks "Does the MCU need to keep going after the satisfying ending of Endgame? Personally, I might not keep watching these movies after."'

Eric Bartolotta asks "Is there another Spider-Man villain who hasn't been on film yet that you'd want to see in the next Tom Holland movie?"
Sales New Sales - Comixology
Star Wars: May the Fourth / Revenge of the Sixth Sale! - Ends May 10th
James Bond Sale - Ends May 16th
Judge Dredd Sale - Ends May 16th
Ongoing Sales from Last Week's Episode
Avengers Blockbuster Sale & a bunch of other Marvel stuff still happening - Ends May 12th
Thanos: Start Here Sale! - Ends May 10th
Boom Box Sale - Ends May 9th
---
Panel to Panel is a weekly comic book podcast where we have conversations about everything related to comic books. From the pages to the silver screen and everything in between!
Follow us on twitter!
Panel to Panel | @PanelPod
Andrew Taylor | @PapaDrewBear
John Bernardo | @Johnsbernardo
Blessing Adeoye Jr | @BlessingJR
Follow us on Instagram | @PanelPod
If you like what you heard, please take a few moments to leave a review! Also don't forget to subscribe! Thank you!