Nailbiter & Ice Cream Man | Panel to Panel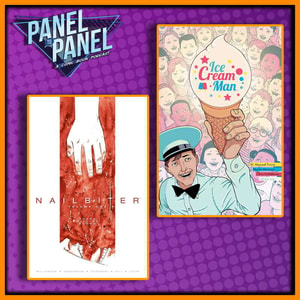 This weeks episode we covered:
Nailbiter Vol 1: There Will Be Blood - 7:00
Written by: Joshua Williamson
Art by: Mike Henderson
"Where do serial killers come from?" and why has Buckaroo, Oregon given birth to sixteen of the most vile serial killers in the world? NSA Agent Nicholas Finch needs to solve that mystery in order to save his friend, and he'll have to team up with the infamous Edward "Nailbiter" Warren to do it.
Ice Cream Man Vol 1: Rainbow Sprinkles - 25:00
Written by: W. Maxwell Prince
Art by: Martin Morazzo
Chocolate, vanilla, existential horror, addiction, musical fantasy…there's a flavor for everyone's misery. ICE CREAM MAN is a genre-defying comic book series, featuring disparate "one-shot" tales of sorrow, wonder, and redemption. Each installment features its own cast of strange characters, dealing with their own special sundae of suffering. And on the periphery of all of them, like the twinkly music of his colorful truck, is the Ice Cream Man—a weaver of stories, a purveyor of sweet treats. Friend. Foe. God. Demon. The man who, with a snap of his fingers—lickety split!—can change the course of your life forever.
---
Panel to Panel is a weekly conversation about what we are currently reading/watching/playing in the ever expanding universe of comic books. Join us every Tuesday @ 7AM Eastern!
Join our Discord Community! - https://discord.gg/zavfTbz
Follow us on twitter!
Panel to Panel | @PanelPod
Andrew Taylor | @PapaDrewBear
John Bernardo | @Johnsbernardo
Ben Pilaczynski | @GetBenPd
Follow us on Instagram | @PanelPod
If you like what you heard, please take a few moments to leave a review! Also don't forget to subscribe! Thank you!
Find out more at https://panel-to-panel.pinecast.co