Killtopia & Saga | Panel to Panel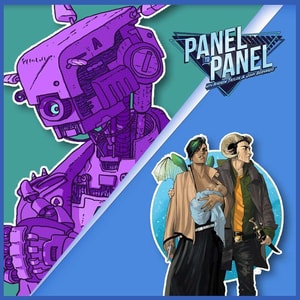 Here's what we talked about this week!
Killtopia Vol 1 & 2
Written By: Dave Cook
Art By: Craig Paton
Published By: BHP Comics
Killtopia is set in future Japan, and follows a salvage hunter called Shinji and his robot sidekick, Crash. Once word gets out that Crash holds the secret to curing a deadly nano-virus that's killed millions around the world, every bounty hunter and Yakuza thug for 1000 city blocks joins the hunt for our heroes. Can they survive the night and change the course of humanity forever?
Saga Vol 1
Written By: Brian K. Vaughan
Art By: Fiona Staples
Published By: Image Comics
SAGA is the sweeping tale of one young family fighting to find their place in the worlds. When two soldiers from opposite sides of a never-ending galactic war fall in love, they risk everything to bring a fragile new life into a dangerous old universe.
Harley Quinn: Season 2 (Ep 1-6)
Harley Quinn has taken down the Joker and Gotham City is finally hers for the taking…whatever's left of it that is. Gotham has become a desolate wasteland, left in ruins, following the huge earthquake caused by the collapse of Joker's tower. Harley's celebration in this newly created chaos is cut short when Penguin, Bane, Mr. Freeze, The Riddler and Two Face join forces to restore order in the criminal underworld. Calling themselves the Injustice League, this group now stands in the way of Harley and her crew from taking sole control of Gotham as the top villains of the city.
---
Panel to Panel is a weekly comic book podcast where we have conversations about everything related to comic books. From the pages to the silver screen and everything in between!
Join our Discord Community! - https://discord.gg/zavfTbz
Follow us on twitter!
Panel to Panel | @PanelPod
Andrew Taylor | @PapaDrewBear
John Bernardo | @Johnsbernardo
Follow us on Instagram | @PanelPod
If you like what you heard, please take a few moments to leave a review! Also don't forget to subscribe! Thank you!
Find out more at https://panel-to-panel.pinecast.co